"So Bad" is the one-hundredth episode of Sonic '06.
"This is a tale of a hedgehog, I think that's a hedgehog, isn't it? I think they're stretching it at this point." -JonTron
"I SAVED THE DAY!! -JonTron
100th Episode
Edit
"By the way, this was the 100th episode, thanks for watching. Pew!" -Egoraptor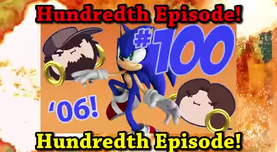 Ad blocker interference detected!
Wikia is a free-to-use site that makes money from advertising. We have a modified experience for viewers using ad blockers

Wikia is not accessible if you've made further modifications. Remove the custom ad blocker rule(s) and the page will load as expected.