Nintendo Land is the twenty-seventh game played by Jon and Arin on Game Grumps.
Playthrough
Edit
Both Game Grumps play using a Mii of themselves, Arin's named Arin Grump and Jon's named Jon Grump.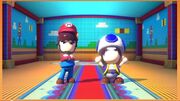 The Game Grumps have played the Animal Crossing: Sweet Day, The Legend of Zelda: Battle Quest, Metroid Blast, Donkey Kong's Crash Course, and Mario Chase subgames, and have yet to play the Pikmin Adventure, Luigi's Ghost Mansion, Takamaru's Ninja Castle, Captain Falcon's Twister Race, Balloon Trip Breeze, Yoshi's Fruit Cart, and Octopus Dance subgames.
Jon has mentioned that he wants to replay Donkey Kong's Crash Course. It is unknown if they will ever play any of the subgames they have not played yet.
Game information
Edit
Nintendo Land (ニンテンドーランド Nintendō Rando) is a 2012 party video game developed and published by Nintendo as a pack-in launch title for the Wii U video game console. Development was handled by Nintendo Entertainment Analysis and Development, and it was directed by Takayuki Shimamura and Yoshikazu Yamashita and produced by Katsuya Eguchi. The game was first announced at E3 2012 during Nintendo's press conference. Nintendo Land features twelve different minigames, each based on an existing Nintendo game franchise such as Mario and The Legend of Zelda, depicted as attractions in the eponymous fictional amusement park. The minigames are designed to demonstrate the concept of Wii U and its Wii U GamePad controller to new players, in the same way the 2006 game Wii Sports demonstrated the Wii and its Wii Remote, utilizing many of the controller's features, including its touchscreen controls and motion-sensing capabilities. Some minigames incorporate the Wii Remote Plus and Nunchuk controllers for alternate control schemes and multiplayer support, which also helps exhibit "asymmetric gameplay", a concept in which certain players have different experiences based on the controller they use. Nintendo Land was well-received by critics, gaining aggregate scores of 77.80% and 77% on GameRankings and Metacritic. The game has sold 2.60 million copies as of March 2013.
The game takes place in an amusement park setting, which serves as a hub for the twelve minigames, which are depicted as the park's attractions. A robotic creature named Monita guides the player through Nintendo Land's features and attractions. The twelve minigames of Nintendo Land are based on popular Nintendo franchises (two of the attractions (Metroid Blast and Mario Chase) are based on Wii U tech demos shown at E3 2011, but are modified to feature Nintendo characters) and are designed to incorporate elements which utilize the features of the Wii U GamePad, often in conjunction with other players using Wii Remotes and Nunchucks (with some games supporting up to five players in this configuration). The combination of Wii Remotes and Wii U GamePads allows for what Nintendo calls "asymmetric gameplay," where players have different experiences depending on which controller scheme they use. Completing minigames and completing certain objectives earns coins, which can be used to play a single-player pachinko minigame. Winning pachinko stages will earn new items for decorating the Nintendo Land hub area.

Nintendo Land Episodes
Games
Game Grumps
Kirby Super Star • The Legend of Zelda: A Link to the Past • Mega Man 7 • Goof Troop • Pokémon Emerald Version • Secret of Mana • Banjo-Kazooie • New Super Mario Bros. Wii • Animal Crossing: City Folk • Zombies Ate My Neighbors • Castlevania III: Dracula's Curse • Super Mario World 2: Yoshi's Island • The Legend of the Mystical Ninja • Adventures in the Magic Kingdom • Disney's Aladdin • Shenmue • Kirby's Return to Dream Land • Joe & Mac • Sonic '06 • Super Mario Land 2 • Demon's Souls • Universal Studios Theme Parks Adventure • Donkey Kong Country • Resident Evil • Contra III • Wild Guns • Nintendo Land • Donkey Kong Country Returns • Donkey Kong Country 2: Diddy's Kong Quest • Run Saber • Metal Slug Anthology (Metal Slug X) • Mighty Morphin Power Rangers • Amazing Island • Portal 2 • Incredible Crisis • Magic Sword • The King of Dragons • One Piece Mansion • Naughty Bear • Viewtiful Joe • Castlevania • Strider 2 • The Great Circus Mystery Starring Mickey & Minnie • Wario World • Aladdin Genesis • Demon's Crest • Bayonetta • Mega Man X7 • Pocky & Rocky • Star Fox 64 • Gradius III • Mega Man X • Chulip • Mister Mosquito • Clash at Demonhead • The Typing of the Dead • Glover • Stretch Panic • The Adventures of Cookie & Cream • Shatterhand • Super Star Wars • Mike Tyson's Punch-Out • Super Mario Bros. 2 • Mega Man 2 • Jackal • The Legend of Zelda • Karnov • Journey to Silius • Out of This World • Super Mario Sunshine • Kirby's Epic Yarn • Super Castlevania IV • Skyblazer • Strider • Super Mario Bros. 3 • Kid Icarus • Batman • Castlevania: Dracula X • Maniac Mansion • The Legend of Zelda: The Wind Waker HD • Super Mario World • Super Metroid • Silent Hill: Shattered Memories • Go Vacation • Katamari Damacy • Night Trap • Pokémon FireRed • Battle Chess • Punch-Out!! • Shadow of the Colossus • Parodius • Sparkster • Super Mario Bros. • The Goonies II • Gun.Smoke • Super C • Disney Princess: Enchanted Journey • Gauntlet II • Chip 'n Dale Rescue Rangers 2 • Mega Man 3 • Shadow the Hedgehog • Dead or Alive Xtreme 2 • Rygar • Heart of Darkness • Super Empire Strikes Back • Metal Storm • DecapAttack • Shovel Knight • Contra Force • 1001 Spikes • Super Ghouls 'n Ghosts • Super Mario 3D World • Castlevania II: Simon's Quest • Power Blade • Trauma Center: Second Opinion • Mega Man 6 • Godzilla: Monster of Monsters! • Castlevania 64 • Little Samson • Battle Kid: Fortress of Peril • Luigi's Mansion • Scooby-Doo and the Cyber Chase • Alien 3 • Super Adventure Island • Donkey Kong Country: Tropical Freeze • Sonic Boom: Rise of Lyric • Deal or No Deal • We Love Katamari • Silent Hill 4: The Room • WWE WrestleMania X8 • Yo! Noid • Alien Hominid • Gradius V • Zelda II: The Adventure of Link • StarTropics • Super Mario 64 • Super Bonk • Barbie as the Island Princess • Ninja Gaiden • Bloodborne • Jelly Belly: Ballistic Beans • The Munchables • Castlevania: Symphony of the Night • Kirby and the Rainbow Curse • Super Mario Galaxy • Sonic Adventure DX • Friday the 13th • Puppy Luv • Super Mario Maker • The Legend of Zelda: A Link Between Worlds • Deadly Creatures • Dead Rising • Cursed Mountain • Endless Ocean: Blue World • Outlaw Golf: 9 Holes of X-Mas • Nancy Drew: The White Wolf of Icicle Creek • The Legend of Zelda: Ocarina of Time • Petz Horse Club • The Legend of Zelda: Skyward Sword • Dark Souls III • SpongeBob SquarePants: Battle for Bikini Bottom • Doom • Dead Rising 2 • Dead or Alive Xtreme 3: Fortune • Godzilla • Mad Dog McCree Gunslinger Pack • Sonic and the Black Knight • Devil's Third • Skitchin' • Katamari Forever • Inside • Gal*Gun: Double Peace • Rayman Legends • Deadly Premonition • Sega Classics Collection (Golden Axe • Alien Syndrome) • Zelda: The Wand of Gamelon • Castlevania Chronicles • Resident Evil: Origins Collection • The Twisted Tales of Spike McFang • Nightmare Busters • Tennis Paper Mario: The Thousand-Year Door • Feel The Snow • Christmas Adventure: Candy Storm • Dead Rising 4 • The Last Guardian • Resident Evil 7: Biohazard • The Wacky World of Miniature Golf • Mario's Time Machine • Link: The Faces of Evil • I Expect You To Die • The Legend of Zelda:Breath of the Wild • Snipperclips • Everything • Shock Troopers • M.C. Kids • Pinstripe • Overwatch • Arms • Hey You, Pikachu! • Imagine: Fashion Party • Sonic Unleashed • Zelda's Adventure • Sonic Mania • Wrath of the Black Manta • Mario + Rabbids Kingdom Battle • Leisure Suit Larry: Magna Cum Laude • Sneak King • Cuphead • A Hat in Time • Ninja Warriors: Stainless Steel Heroes • The Evil Within 2 • Crush Crush • Super Mario Odyssey • Sonic Forces • Voyeur • Stardew Valley (Nintendo Switch) • Muppet Adventure: Chaos at the Carnival • Doki Doki Literature Club! • Fire Pro Wrestling World • Celeste • Monster Hunter: World • Subnautica • The Legend of Zelda: Majora's Mask • Iconoclasts • Wizorb • Escape Trick: 35 Fateful Enigmas • Trap Adventure 2 • House Party • Barble Groom and Glam Pups • A Way Out • God of War (2018) • Wave Race 64 • Pokémon Snap • Animal Super Squad • Bloodstained: Curse of the Moon • House Flipper • Wizard of Legend • Detroit Become Human • Raft • Dark Souls Remastered • Gal Gun 2 • Radical Heights
Game Grumps One-offs
Battletoads • Chuck E. Cheese's Party Games • Mary-Kate & Ashley: Sweet 16 - Licensed to Drive • Super Mario Land • Winter Olympics • Doom Troopers • Rugrats in Paris: The Movie • The Blues Brothers • Psycho Dream • The New Adventures of Mary-Kate & Ashley • Timon & Pumbaa's Jungle Games • The Jungle Book • Inspector Gadget • New Super Mario Bros U • Spice World • Mary-Kate and Ashley: Magical Mystery Mall • Ultraman: Towards the Future • Star Wars: Rogue Squadron • Dead Space 3 • Sengoku Basara: Samurai Heroes • Top Shop • Crayon Shin-Chan • Drakkhen • Paperboy 64 • Kickle Cubicle • DJ Boy • Plok • Shovel Knight • Toki • Dog's Life • Astyanax • A Bug's Life • Karate Kid • The Three Stooges • Mickey Mousecapade • Skate or Die 2: The Search for Double Trouble • Totally Rad • Chester Cheetah: Too Cool to Fool • Cool Spot • Home Alone • Dennis the Menace • Kendo Rage • Brothers: A Tale of Two Sons • Charlie Murder • Flashback • Teenage Mutant Ninja Turtles: Out of the Shadows • Pinocchio • Chuck Rock • Alfred Chicken • Contra • Radical Rex • Spider-Man and Venom: Maximum Carnage • Captain Planet • Phantom Fighter • Goosebumps HorrorLand • The Addams Family: Pugsley's Scavenger Hunt • The Amazing Frog? • Endless Ocean • Myth Makers: Trixie in Toyland • Ninjabread Man • Elf Bowling 1 & 2 • Hello Kitty Seasons • B.O.B. • D-Force • Spanky's Quest • Adventures of Tom Sawyer • The 3-D Battles of WorldRunner • The Lion King • Super Puzzle Fighter II Turbo • Lizzie McGuire 3: Homecoming Havoc • The Daring Game for Girls • Build-A-Bear Workshop: A Friend Fur All Seasons • DuckTales • Kabuki Quantum Fighter • V.I.P. • Play with the Teletubbies • ToeJam & Earl • Transformers: Mystery of Convoy • Hannah Montana: The Movie • P.T. • Kung Fu • The Goonies • The Dog Island • Hell's Kitchen: The Game • Beavis and Butt-Head • Dragon's Lair • Dragon Tales: Dragon Seek • Werewolf: The Last Warrior • Silent Hill: Play Novel • Gubble • Castle of Dragon • Lester the Unlikely • Platoon • Domino Rally • Dick Tracy • Lethal Weapon • Home Alone 2: Lost in New York • Captain Novolin • X-Kaliber 2097 • Wolfchild • Ninja Kid • Rudolph The Red-Nosed Reindeer • Santa Claus is Comin' to Town! • We Wish You A Merry Christmas • Coldstone Creamery: Scoop It Up • Snow Bros. • RoboCop • BurgerTime • King's Knight • Mappy-Land • Super Off Road: The Baja • Mario's Early Years! Preschool Fun • Adventures of Yogi Bear • Endless Ocean: Blue World • Busy Scissors • Wall Street Kid • Sesame Street Countdown • The Bachelor: The Videogame • X-Men: Mutant Apocalypse • Mario is Missing! • Pac-In-Time • Indivisible • I Spy Spooky Mansion • Star Wars Episode I: The Phantom Menace • Ice Age 2: The Meltdown • Batman Returns • Daze Before Christmas • Kitten Corner • Hello Kitty Picnic • Jackie Chan Stuntmaster Super Troll Islands • Ivy The Kiwi? • Cocoto Fishing Master • Rosco McQueen: Firefighter Extreme • Sega Classics Collection (Puzzle & Action: Tant-R & Bonanza Bros.) • The Lawnmower Man • Sküljagger: Revolt of the Westicans • Solomon's Key • Hagane • The Night Christmas Ended • Super Snow Fight • Shaq-Fu • Home Improvement: Power Tool Pursuit! • Wild Guns: Reloaded • Proton Pulse • Rez Infinite • Fuck Mr.Hatcher • Elevator Action • LSD • Barbie Explorer • Super Smash Bros. • Monster Party • Lost Base Escape • The Youthdrainers • Tungulus • 24 Hours • Dark Night • Fire Emblem Warriors • The Mummy: Demastered • Willow • The Berenstain Bears On Their Own And You On Your Own • The Dinosaur Hunt • Christmas Puzzle • Christmas Race • Getting Over It W/ Bennet Foddy • Devil Daggers • Dash Galaxy in the Alien Asylum • Defender of the Crown • Marble Skies • Vice: Project Doom • Where's Waldo? • Whomp 'Em • Mohawk & Headphone Jack • Road Runner's Death Valley Rally • Once Upon a Coma • Mom Hid My Game • Badass Babes • Octogeddon • Lovely Planet • Goofball Goals • Robotron 64
Game Grumps VS
Super Smash Bros. Brawl • Jeopardy! • GoldenEye 007 • DreamMix TV World Fighters • Millionaire • Family Feud • Teenage Mutant Ninja Turtles: Tournament Fighters • Snowboard Kids 2 • Clayfighter 63⅓ • Mario Party 4 • Fighter Destiny 2 • Pokémon Stadium • Mario Party 2 • Monopoly • Godzilla: Kaijuu Daikessen • Mighty Morphin Power Rangers: The Fighting Edition • Godzilla: Destroy All Monsters Melee • NBA Jam • Mario Party 8 • Bill Laimbeer's Combat Basketball • Nickelodeon Guts • Chivalry • The Price is Right • Naruto Shippuden: Ultimate Ninja Storm Generations • Wheel of Fortune • PlayStation All-Stars Battle Royale • You Don't Know Jack • Mario Power Tennis • BattleTanx: Global Assault • Weaponlord • Space Jam • Ultimate Muscle: Legends vs. New Generation • Castlevania Judgment • Rakuga Kids • Furu Furu Park • Super Bomberman 2 • SoulCalibur II • ChuChu Rocket! • Kirby Air Ride • Arcana Heart • Mario Golf Toadstool Tour • Cel Damage • Puyo Pop Fever • World Driver Championship • Hollyood Squares • Dragon Ball Z: Burst Limit • Pac-Attack • Super Tennis • Gundam: Battle Assault 2 • Saturday Night Slam Masters • Wheel of Fortune: Junior Edition • Bubble Bobble • Family Feud: Decades • 3D Ballz • Wheel of Fortune • You Don't Know Jack: Mock 2 • Ribbit King • Biker Mice from Mars • The $1,000,000 Pyramid • Jeopardy! • Sheep • Kirby's Dream Course • The Price is Right: Decades • Press Your Luck • Mario Golf • Slalom • Disney Think Fast • Cooking Mama Cook Off • No Brakes Valet • Bombball • Tecmo Bowl • WWF WrestleMania Challenge • Survivor • Dokapon Kingdom • Pooh's Party Game: In Search of the Treasure • Are You Smarter Than a 5th Grader? Game Time • Jordan vs. Bird: One on One • Mario Sports Mix • Hollywood Squares • Boom Blox: Bash Party • Minute to Win It • Namco Museum Megamix (Pac-Man • Pac-Mania • Dig Dug) • Ultimate Board Game Collection (Checkers • Chinese Checkers) • Monopoly • Pong: The Next Level • Q*bert 3 • Rumble Roses • Smarty Pants • WildSnake • Tetris Attack • Yoshi's Cookie • M&M's Beach Party • Action Girlz Racing • SNK Arcade Classics Vol. 1 (Neo Turf Masters) • California Games • Ice Hockey • Jelly Belly: Ballistic Beans • MTV: Remote Control • Bishi Bashi Special • Mario Party 10 • Star Wars: Masters of Teräs Käsi • Imagine Party Babyz • Grump's Dream Course • Intellivision Lives! • Tennis • Kart Fighter • Nintendo World Championships • Super Snow Fight • 100ft Robot Golf • Mario Kart 8 Deluxe • NES Remix Pack • Puyo Puyo Tetris • Super Bomberman R • Virtual Chess 64 • Calvin Tucker's Redneck Jamboree • Chuck E. Cheese's Sports Games • Double Dare • Stick Fight: The Game • Party Golf • Madden NFL '94 • Power Moves • Micro Machines • Dragonball FighterZ • Brief Karate Foolish • Mario Party 7 • Golf Story • Big Beach Sports • All Star Cheer Squad • Guesspionage
Guest Grumps
Conker's Bad Fur Day • Banjo-Kazooie • GoldenEye 007 • Donkey Kong 64 • MadWorld • Game of Thrones • Mario Kart 64 • Wheel of Fortune • Star Wars Battlefront • Mortal Kombat Trilogy • Time Lord • Crash Tag Team Racing • WCW vs. nWo: World Tour • Shamu's Deep Sea Adventure • World Party Games • The Cat in the Hat • Joe & Mac
Steam Train
Hotline Miami • Castle Crashers • Space Quest IV: Roger Wilco and The Time Rippers • Civilization V: Brave New World • FTL: Faster Than Light • Shrek Forever After • Jamestown: Legend of the Lost Colony • No Time to Explain • Trine 2 • Offspring Fling! • Rogue Legacy • VVVVVV • Doctor Who: The Eternity Clock • Insanely Twisted Shadow Planet • The Stanley Parable • They Bleed Pixels • Leisure Suit Larry in the Land of the Lounge Lizards • Call of Cthulhu: Dark Corners of the Earth • The Binding of Isaac • Haunt the House: Terrortown • The Elder Scrolls V: Skyrim • The Oregon Trail • World of Warplanes • King's Quest V: Absence Makes the Heart Go Yonder! • Barbie Dreamhouse Party • Jazz Jackrabbit: Holiday Hare 1995 • Hyper Princess Pitch • Little Inferno • Duke: Nuclear Winter • Fable: The Lost Chapters • Cave Story • Noitu Love 2: Devolution • Ride to Hell: Retribution • Default Dan • Loadout • Duke Nukem II • My Boyfriend 2 • Eryi's Action • Metal Slug 3 • Go! Go! Nippon! ~My First Trip to Japan~ • South Park: The Stick of Truth • Electronic Super Joy • Banished • Surgeon Simulator 2013 • Super Smash Bros. • Spore • Goat Simulator • Broforce • Naruto Shippuden: Ultimate Ninja Storm 3 Full Burst • Escape Goat 2 • Life Goes On • Gang Beasts • Duke Nukem Forever • Divekick • Dark Souls II • Guns of Icarus Online • The Last Tinker: City of Colors • Drunken Robot Pornography • Blur • They Breathe • A Story About My Uncle • DreadOut • The Graveyard • Super Amazing Wagon Adventure Turbo • The Stomping Land • BattleBlock Theater • King's Quest VI: Heir Today, Gone Tomorrow • Petz Catz 2 • Cabela's Dangerous Hunts 2013 • OlliOlli • My Ex-Boyfriend the Space Tyrant • Sakura Spirit • Only If • Hyper DBZ • Secret of the Magic Crystals • Unturned • Cliffhorse • Mount Your Friends • Peggle Nights • Next Car Game • Five Nights at Freddy's • Monster Loves You! • Mega Coin Squad • Amazing Princess Sarah • Screencheat • The Sims 4 • Boson X • Outlast • Adventures of Pip • Turbo Dismount • Double Dragon Neon • Lethal League • Winnie the Pooh and the Honey Tree • Transformers: Fall of Cybertron • Warcraft III: Reign of Chaos • Duck Dynasty • Don Bradman Cricket 14 • Among the Sleep • Plague Inc: Evolved • Organ Trail • Amazing World • World of Diving • Black & White 2 • The Binding of Isaac: Rebirth • Five Nights at Freddy's 2 • Trials Fusion • Heavy Bullets • Freddi Fish and the Case of the Missing Kelp Seeds • Plants vs. Zombies • I am Bread • The Deer God • Potatoman Seeks the Troof • Lemmings • SpeedRunners • Wings of Vi • Lego Island • Santa Claus in Trouble • Rust • Snowcat Simulator • Leisure Suit Larry 6: Shape Up or Slip Out! • Presentable Liberty • Spewer • Grow Home • Ostrich Island • Crawl • Tasty Blue • Castle In The Darkness • Oniken • Five Nights at Freddy's 3 • Besiege • Root Beer Tapper • Mario Kart: Double Dash!! • Fly in the House • Reign of Kings • Pony World 3 • Grand Theft Auto V • Cook, Serve, Delicious! • Nuclear Throne • Airport Firefighters - The Simulation • Finding Teddy II • Fighties • Rocket League • Sonic Dreams Collection • King's Quest • Lovers in a Dangerous Spacetime • Rivals of Aether • Undertale • Keep Talking and Nobody Explodes • Flywrench • Mushroom 11 • SOMA • Spooky Cats • Extreme Exorcism • Shower With Your Dad Simulator 2015 • Bulb Boy • Impossible Creatures • The Hitchhiker's Guide to the Galaxy • Who's your Daddy • Dr. Langeskov, The Tiger, and the Terribly Cursed Emerald: A Whirlwind Heist • The Grinch • The Grinch • Santa's Xmas Caper • SkyRoads Xmas Special • Terror in XMAS Town • Xmas Carnage • WillYouPressTheButton?.com • Oxenfree • Slime Rancher • Bear Simulator • Stardew Valley (PC) • Pain • GIRP • CLOP • Lucky Charms • Hyper Light Drifter • SUPERHOT • Papers, Please • Return of the Obra Dinn • Glitchspace • Distance • Black & White Bushido • Hybrid Animals • Super Sanic Turbo Gun Adventure 2 Turbo • Sanic Spin 2006 • Sanicball • Akiba's Trip: Undead & Undressed • Particle Mace • Youtubers Life • Overwatch • Dino Dearest • Hustle Cat • Pokémon Academy Life • Salt and Sanctuary • Princess Remedy in a World of Hurt • Human: Fall Flat • Ragdoll Runners • Space Pirate Trainer • LASTFIGHT • Worms W.M.D • Zero G Arena • Valley • Spank Princess Elsa Butt • Frozen Elsa Belly Pain • Elsa Spring Spa • Olaf At The Dentist • Green Hill Paradise - Act 2 • Attack on Titan • Clustertruck • Butt Sniffin Pugs • EVERSPACE • Redout • Mr.President! • Five Nights at Freddy's: Sister Location • Shut Eye • Breathing Fear • Halloween Forever • Squareface • Vestige • Social Interaction Trainer • Quick, Draw! • Owlboy • Aragami • Genital Jousting • Blade Ballet • Naruto Shippuden: Ultimate Ninja Storm 4 • Santa's Christmas Solitaire • Stargazer Christmas • Delicious - Emily's Christmas Carol • Garden Rescue • Snow Horse • Overwatch • 1-2-Switch
Steam Rolled
Quake III Arena • Counter-Strike: Global Offensive • Worms Armageddon • Mario Party 4 • Rayman Legends • TowerFall • Fortune Street • Tiny Brains • Mario Kart: Double Dash‼ • Bomberman Jetters • Nidhogg • Starwhal • Wii Party U • Samurai Gunn • Guns of Icarus Online • Duck Game • ChargeShot • Sky Arena • Bicyclism
Grumpcade
Super Smash Bros. for Wii U • Super Monkey Ball • Super Star Wars: Return of the Jedi • Daedalian Opus • Yoshi's Story • Vice: Project Doom • Game & Wario • Star Wars Episode I: Racer • Dragon Ball Z: Budokai 3 • Dragon Ball XenoVerse • Trog • WarioWare, Inc.: Mega Party Game$! • Digimon Rumble Arena • Dragon Ball GT: Final Bout • Donkey Kong Country 3: Dixie Kong's Double Trouble • Zack & Wiki: Quest for Barbaros' Treasure • Pokémon Snap • Mario Party 10 • Super Mario Kart • Brutal Mario World • The Land Before Time: Great Valley Racing Adventure • Sonic the Hedgehog 3 & Knuckles • James Bond Jr. • Metal Gear • Teenage Mutant Ninja Turtles: Turtles in Time • SlashDash • Pokémon Art Academy • Battle Stadium D.O.N • Drawn to Life • Space Camp • Harry Potter and the Chamber of Secrets • Runbow • Metal Gear Solid V: The Phantom Pain • BurgerTime • The Legend of Zelda: Tri Force Heroes • Elevator Action • Dr. Mario • Halo: The Master Chief Collection (Halo: Combat Evolved Anniversary) • Diablo III: Reaper of Souls • God Hand • Star Wars Episode I: Jedi Power Battles • Spider-Man 3 • Karate Champ • Whomp 'Em • Skylanders: Superchargers • Classic Concentration • Animal Crossing: amiibo Festival • Spelunky • Oddworld: Abe's Oddysee • Bust-a-Move Universe • Tetris Axis • Sword of the Berserk: Guts' Rage • Barbie and Her Sisters Puppy Rescue • Wipeout 3 • Monster High: New Ghoul in School • Catwoman • Detective Barbie: The Mystery Cruise • Family Party: 30 Great Games Obstacle Arcade • Babysitting Mama • Carnival Games: Mini-Golf • Sonic the Hedgehog 2 • The Adventures of Rad Gravity • Pokkén Tournament • Pac-Man Fever • The Cat in the Hat • Burnout - Ghostbusters: The Video Game • The Jackbox Party Pack 2 • Shantae and the Pirate's Curse • Sushi Go-Round • Crazy Taxi • Push Me Pull You • WWF WrestleMania: The Arcade Game • Super Smash Bros. Melee • Jet Grind Radio • Frogger: The Great Quest • Dragon Rage • Shadows of the Damned • Circus Games • NES Remix Pack • Mario & Sonic at the Rio 2016 Olympic Games • Chambara • No Man's Sky • Learn with Pokémon: Typing Adventure • Pepsiman • Bound • EarthBound • Mario Super Sluggers • Thumper • Dragon Ball Xenoverse 2 • Tamagotchi: Party On! • Birthday Party Bash • Fantasy Aquarium World • Star Trek: Legacy • Bee Movie Game • Ty the Tasmanian Tiger • The Simpsons: Hit & Run • Sonic Shuffle • Gnog • Robot Party • Miitopia • Splatoon 2
Table Flip
Cards Against Humanity • Betrayal at House on the Hill • Metagame • Pictionary • Shadows Over Camelot • King of Tokyo • Ca$h 'n Gun$ • One Night Ultimate Werewolf • Coup • Dixit • Poker • Munchkin • Slash • The Game of Things • Snake Oil • Survive • Funny Bunny • Poo • Kill Doctor Lucky • Win, Lose, Banana! • Slap .45 - Bang! • Colt Express • Cleopatra and the Society of Architects • Camel Up • Indigo • Thug Life
Hunting Monsters
Monster Hunter 3 Ultimate • Monster Hunter 4 Ultimate
Guild Grumps
World of Warcraft