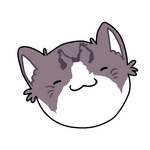 Mojo is a gray and white cat owned by Holly and Ross. Mojo was first mentioned by Jon in the Goof Troop episode "You like the Zelda" where he incorrectly refers to the cat as "Ross O'Donovan's cat Momo". Mojo was featured in the April Fool's Day Steam Train spinoff Meow Train.
Mojo is depicted as cutesy and playful in the Meow Train intro.
Mojo is female, as confirmed by Holly in her various vlogs.
Mojo is also called Mo or Princess Mo by Holly.
According to Ross at the RTX 2014 Game Grumps panel, Mojo is extremely shy and Ross almost never sees her as Holly is the only one she will interact with and was the one that recorded the Mojo portion of the Meow Train video.
Ad blocker interference detected!
Wikia is a free-to-use site that makes money from advertising. We have a modified experience for viewers using ad blockers

Wikia is not accessible if you've made further modifications. Remove the custom ad blocker rule(s) and the page will load as expected.