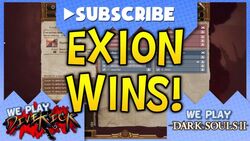 Exion (real name Ethan Williams) was a random steam user who happened to be playing Guns of Icarus Online during the Steam Train episode of it. He ended up on the same team as the the Grumps and was a mechanic on their ship the Steamy Wolfjob. His voice was heard a few times as he talked to them over the mic and even said that he can't wait to see the episode and that he loves their work. He also said that the Exion account is actually his brothers account and not really his. Since Exion was really helpful and on top of everything during the game, the grumps decided to say "Exion Wins" at the end of the episode even though their team lost. He tweeted at Arin and Ross right after the game ended before the episode was posted.
Ad blocker interference detected!
Wikia is a free-to-use site that makes money from advertising. We have a modified experience for viewers using ad blockers

Wikia is not accessible if you've made further modifications. Remove the custom ad blocker rule(s) and the page will load as expected.